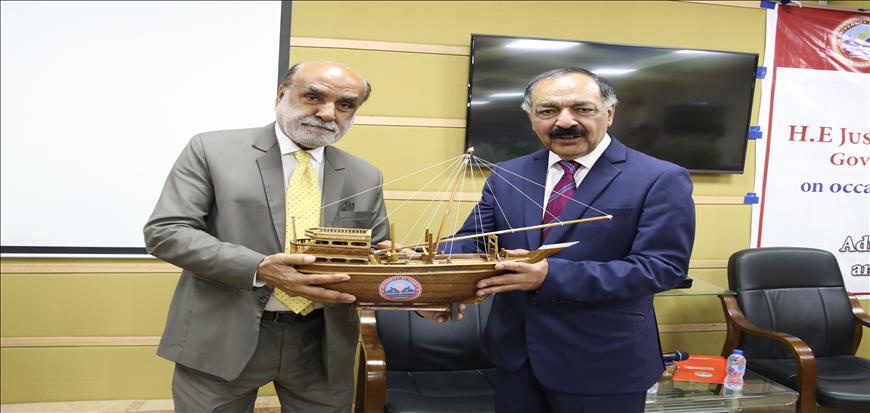 ---
Governor Balochistan envisions UoT as one of best university in coming years
Governor Balochistan Amanullah Khan Yasinzai on Wednesday April 3, 2019 paid visit to the University of Turbat (UoT) where besides inaugurating University Model School and Multipurpose Hall he also planted a tree in the Greenland of the Management Sciences Department. He pledged his full support in order to address the issues of UoT.
Being the chancellor of the university he conducted direct interaction with faculty members to listen and address the issues related to University of Turbat. Replying various queries the Governor Balochistan lauded the performance of UoT and said, "I envision the University of Turbat (UoT) as one of the best university in Pakistan in the year to come and I am pleased to see Turbat University to have achieved many milestones in few years since its establishment where not only the students from Mekran division but students from all over Balochistan and Pakistan are keen to take admission in this rapidly growing university."
He said the provincial government would take all possible measures to ensure quality education in all universities of Balochistan.
"We can't compromise on our educational systems because this is the only source of lighting the future of Balochistan and we would address all issues of UoT on priority basis."
Talking to local media in UoT Amanullah Khan Yasinzai said, fortunately Turbat University has gained tremendous popularity in short period and we are satisfied over the education being provided to students.
"Not only UoT but all universities in Balochistan plagued with financial issues but the crises would be resolved in coming days." Governor Balochistan pledged.
Vice Chancellor UoT Prof Dr. Abdul Razzaq Sabir briefed the Governor regarding educational activities and achievements gained by his institution in short span of five years.
Principal Secretary to Governor Naseebullah Bazai, ADC to Governor Major Gohar Khatak, registrar Ghulam Farooq, faculty of Arts and Social Sciences Dean prof Dr. Abdul Saboor, QEC director Prof Dr. Gul Hassan, controller examinations Tanveer Ahmed, Commissioner Mekran division Tariq Zehri, deputy commissioner Kech Zeshan Sikindar, director Gwadar Campus Ijaz Ahmed, dean research Dr. Riaz Ahmed, director ORIC Dr. Adeel Ahmed, deputy registrar Ganguzar Baloch, heads of teaching and administrative department and faculty members were present at this occasion.
Regarding the matters related to setting up solar panel system in UoT, establishing software house, e-library, digital library, increasing M.Phil. /Ph.D. scholarship slots for faculty, scholarships for talented and deserving students and green UoT projects he assured to take up the matters with HEC, Federal and Provincial government, donor agencies and Chinese institutions.
He said he would not consider the people of Mekran as backward because they are educationally sound and second to none.
In his welcome address VC UoT Prof Dr. Abdul Razzaq Sabir thanked governor Balochistan for visiting UoT and taking keen interest in promoting higher education in this far flung area of the country. He apprised the Chancellor regarding university five year performance and challenges faced by his institution. VC said that despite limited resources the UoT had achieved many milestones in short span of five years due to the teamwork efforts of faculty members, administrative staff and with the cooperation of HEC, Federal and Provincial government, students and parents. Dr. Sabir said that "it is an undeniable fact that the progress of any country is linked with learning and education, those nations that invested in education in past are reaping the fruit of success and prosperity today." A short video documentary on UoT was also presented at this occasion.
Justice (R) Amanullah Khan Yasinzai also distributed laptops among the students under the Prime Minister Laptop Scheme. Focal Person of the PM Laptop Scheme Abdul Hakeem was also present at this occasion.
Governor Balochistan also visited department of Law and Mekran Medical College. Minister for Information and Higher Education Zahoor Ahmed Buledi was also present at this occasion.
University Law faculty and main campus students urged Governor for provision of additional busses. He assured the students that their demands would be fulfilled as quickly as possible.
VC UoT presented a souvenir to the Chancellor.
Faculty member Ms. Samina Faqir form UoT main campus and Ms. Durjan Gichki from Gwadar campus performed the responsibility as stage secretary.
---